BMW Motorcycle Dealership in Bloomfield MI
We invite you to come out and see our facility outside Detroit to take a test ride on any of our bikes. We always promote "Ride Before You Buy!" Hopefully, you have already selected which type of BMW motorcycle you're interested in. If not, take a look at BMW Motorrad. Otherwise, you can select from any of the types of motorcycles BMW has to offer.
Whether you already ride a motorcycle, or just want to see what the excitement's about, we have the perfect bike for you! BMW Motorcycles of Southeast Michigan has all types of models for every rider.
From touring bikes like the R 1250 RT to sport motorcycles like the S1000 RR, cruisers like the R 18 or adventure bikes like our R 1250 GS, we have a bike for everyone at our BMW Motorcycle Dealership in Bloomfield Hills. If you are looking for something specific, please call us or stop by.
Looking to buy a used motorcycle? With the selection at BMW Motorcycle Dealership in Bloomfield Hills, you won't need to shop anywhere else. Our pre-owned inventory ranges from beginner street bikes to performance models, and are updated regularly on our website.
BMW Motorcycles Southeast Michigan wants to make your dream of owning a motorcycle a reality no matter what your credit is like. Our qualified professionals can help secure the best deal possible, and we look forward to working with you! You can start the process by filling out our online finance form today.
BMW Motorcycles Southeast Michigan is the place to bring your bike for scheduled service. We understand that you can't enjoy your BMW when it's in for service and we strive to minimize that time. Our service department is staffed by highly trained technicians and equipped with the factory tools and diagnostic equipment needed for efficient repairs.
Parts
Order Parts online at anytime at BMW Motorcycles Southeast Michigan. Better equip yourself for any riding conditions with gear from BMW Riders' Equipment or just enjoy more everyday enthusiasm with BMW Motorcycle Lifestyle Apparel. Shop from over 1,000 parts and accessories in our online store.
BMW Motorcycle Dealership Serving Bloomfield Hills, MI
We are your BMW Motorcycle Dealership in Bloomfield Hills. Whether you are new to the motorcycle game or have been riding for months, BMW Motorcycles Southeast Michigan wants to help you take the next step. Every member of our staff rides, allowing them to better understand and recommend the best bike for you.
As a BMW Motorcycle Dealership in Bloomfield Hills, we are here to help and pride ourselves in being upfront, honest, and meeting your needs, whether on the street or off-road. Stop by anytime with questions or stories about your adventures. We love chatting with our customers.
Getting from Bloomfield Hills, MI to BMW Motorcycles of Southeast Michigan
BMW Motorcycle Dealership in Bloomfield Hills. is located in Plymouth, Michigan, a short 35-minute drive from Bloomfield Hills. When you visit us, you will want to take I-696 west to I-275 south. The the exit to M-14 west, then exit 20 to Sheldon Rd, turn right and you'll quickly see our dealership located at the corner of Helm Street and Sheldon Rd. Hurry in we can't wait to meet you!
About Bloomfield Hills, MI
Bloomfield Hills is a small city (5.04 sq. miles) in Oakland County in the U.S. state of Michigan. It is a northern suburb of Metro Detroit and is approximately 20 miles northwest of Downtown Detroit. Except a small southern border with the city of Birmingham, the city is almost completely surrounded by Bloomfield Township, but the city and township are administered separately. As of the 2020 census, the city's population was 4,460.
What is now Bloomfield Hills was a farming area until the turn of the 20th century when wealthy Detroit residents bought up the land. The settlement became a village in 1927, and in 1932 residents voted to become a city to avoid being incorporated into growing Birmingham.
BMW Motorcycle Dealership in Bloomfield MI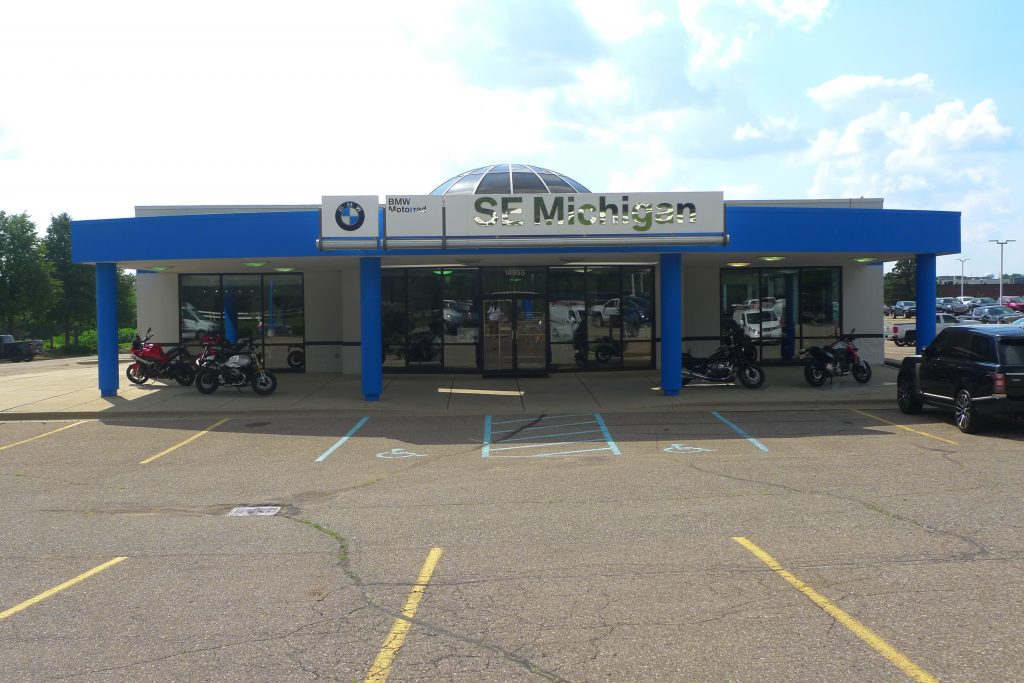 Things To Do in Bloomfield Hills, MI
Frequently Asked Questions
Does BMW make an electric motorcycle?

The BMW CE 04 is an all-electric automatic scooter with a maximum speed of 75 mph.

Does BMW Motorcycles make scooters?

BMW Motorrad currently has two models in the scooter line-up: the BMW C 400 GT and the all-electric CE 04.